IN THE BEGINNING

The tale of Tinariwen begins with the story of its founding father, Ibrahim Ag Alhabib. The son of a Tuareg rebel, at the age of four Ibrahim witnessed his father's execution at the hands of the government during the 1963 uprising in Mali.

Growing up in between the deserts and refugee camps of Algeria, Ibrahim was regarded as a wanderer and a loner – he was nicknamed 'Abaraybone', meaning 'ragamuffin child'. One day, he remembers, he was watching a western at a makeshift desert cinema and was struck by a scene in which a cowboy plays a song on a guitar. Inspired, he built his first guitar using an oil can, a stick and a bicycle brake wire. He started to learn to play, practising old Tuareg melodies, modern Arabic pop tunes and the Malian blues music of Ali Farka Touré.



1979

Ishumar is a Tamashek word derived from the French 'chômeur', meaning 'unemployed'. It refers to a generation of young Tuareg men who were driven from their homes by drought, conflict or poverty and travelled in search of work.

Ibrahim was one of these ishumar. In 1979, following work as a carpenter and a stint in jail, he found himself in the southern Algerian desert oasis of Tamanrasset, where he met Alhassane Ag Touhami (aka 'Hassan') and Inteyeden Ag Ableline, Tuareg from the Adrar des Ifoghas region in Mali. While in Tamanrasset, Ibrahim was gifted his first acoustic guitar. Along with Inteyeden's brother Liya Ag Ablil (aka 'Diarra'), they formed a music group to play weddings and parties for members of the exiled Tuareg community. Their songs tackled themes that spoke directly to their fellow ishumar exiles - homesickness, longing, exile from their homeland.

The band had no name, but people began to call them Kel Tinariwen. In the Tamashek language, it translates as "The People of the Deserts", or "The Desert Boys".



THE REBEL YEARS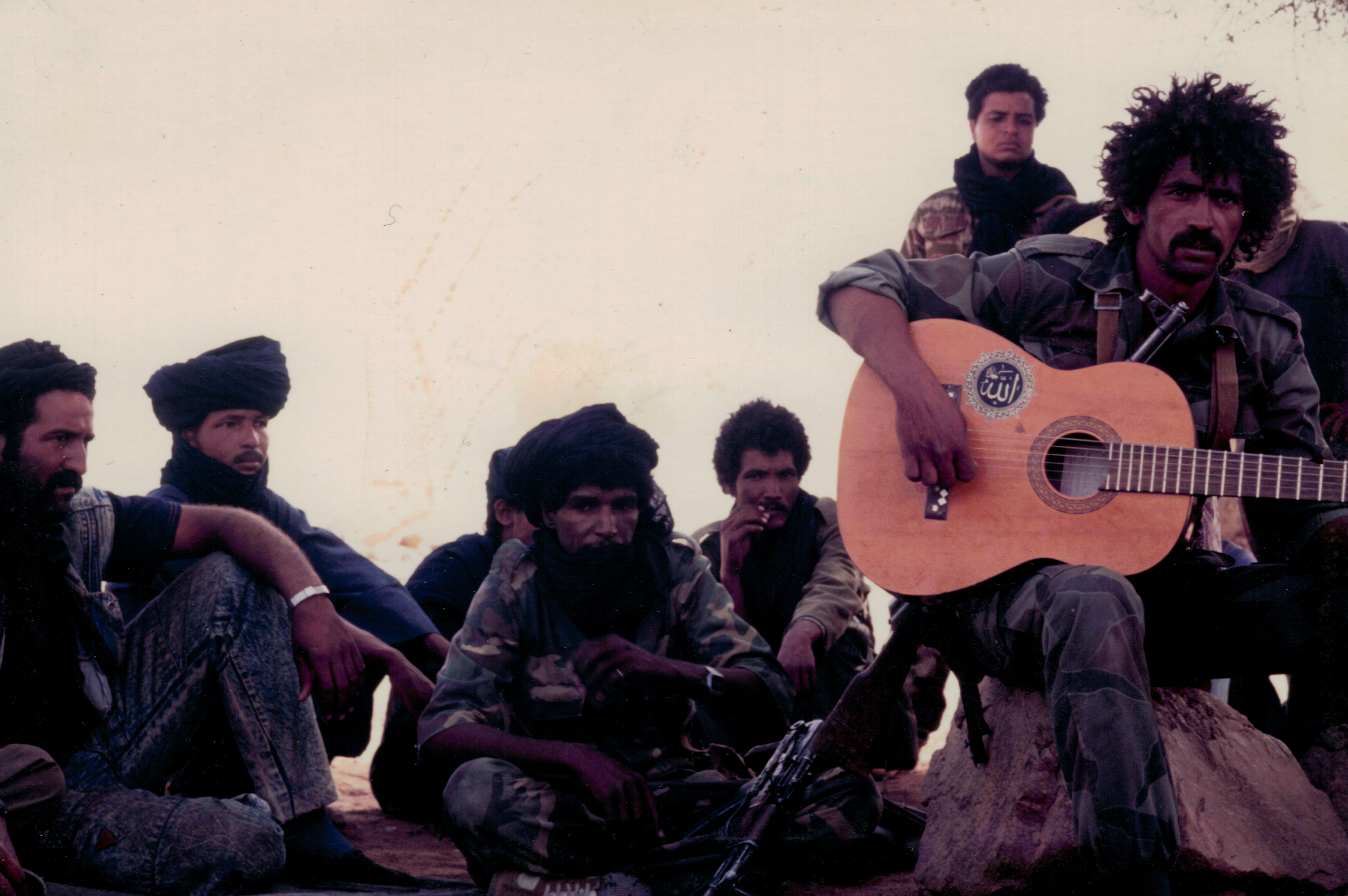 1980

The Tuareg are a nomadic people, famed across the region as skilful and fearless desert fighters. In 1980 Muammar al-Gaddafi, the ruler of Libya, issued a decree encouraging Tuareg men to join a new Islamic legion, which would fight to create a united Muslim state across North Africa. In search of a better life, Ibrahim and his bandmates answered the call, and signed up for several months of military training.


For the next few years, the members of Tinariwen travel back and forth between Libya and south Algeria, searching for opportunities and honing their music.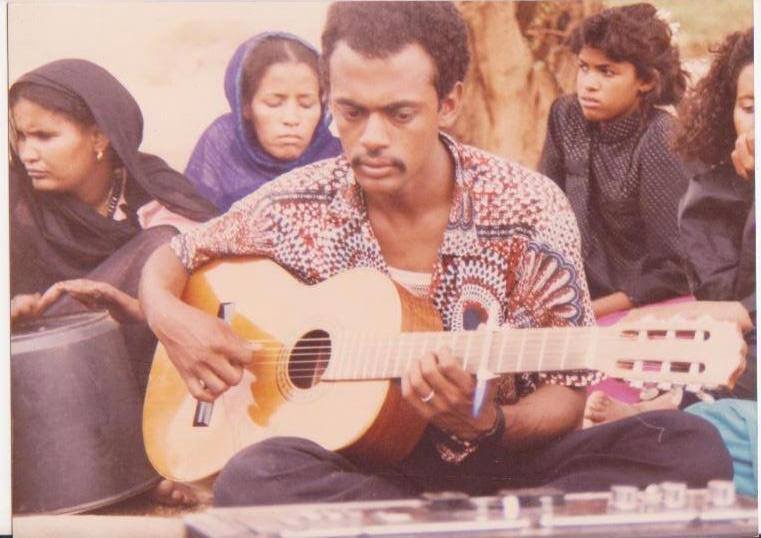 1985

The young Tinariwen are invited to a new camp near Tripoli. This camp was run by the MPA (Mouvement Populaire de l'Azawad), a Tuareg rebel movement fighting for a new independent state. There, they met a new group of aspiring musicians, including Kedou Ag Ossade (aka 'Hiwaj'), Mohammed Ag Itlale (aka 'Japonais'), Sweiloum, Abouhadid and Abdallah Ag Alhousseyni. Their music became interlinked with the cause – the Tuareg's fight for education, independence and political freedom.


Working from a makeshift rehearsal studio, they wrote and recorded songs, free for anyone who turned up at their door with a blank cassette tape. Through the exchange of cassettes – often dubbed copies, or copies of copies – Tinariwen's songs of hope, struggle and exile spread through settlements and camps across the Sahara.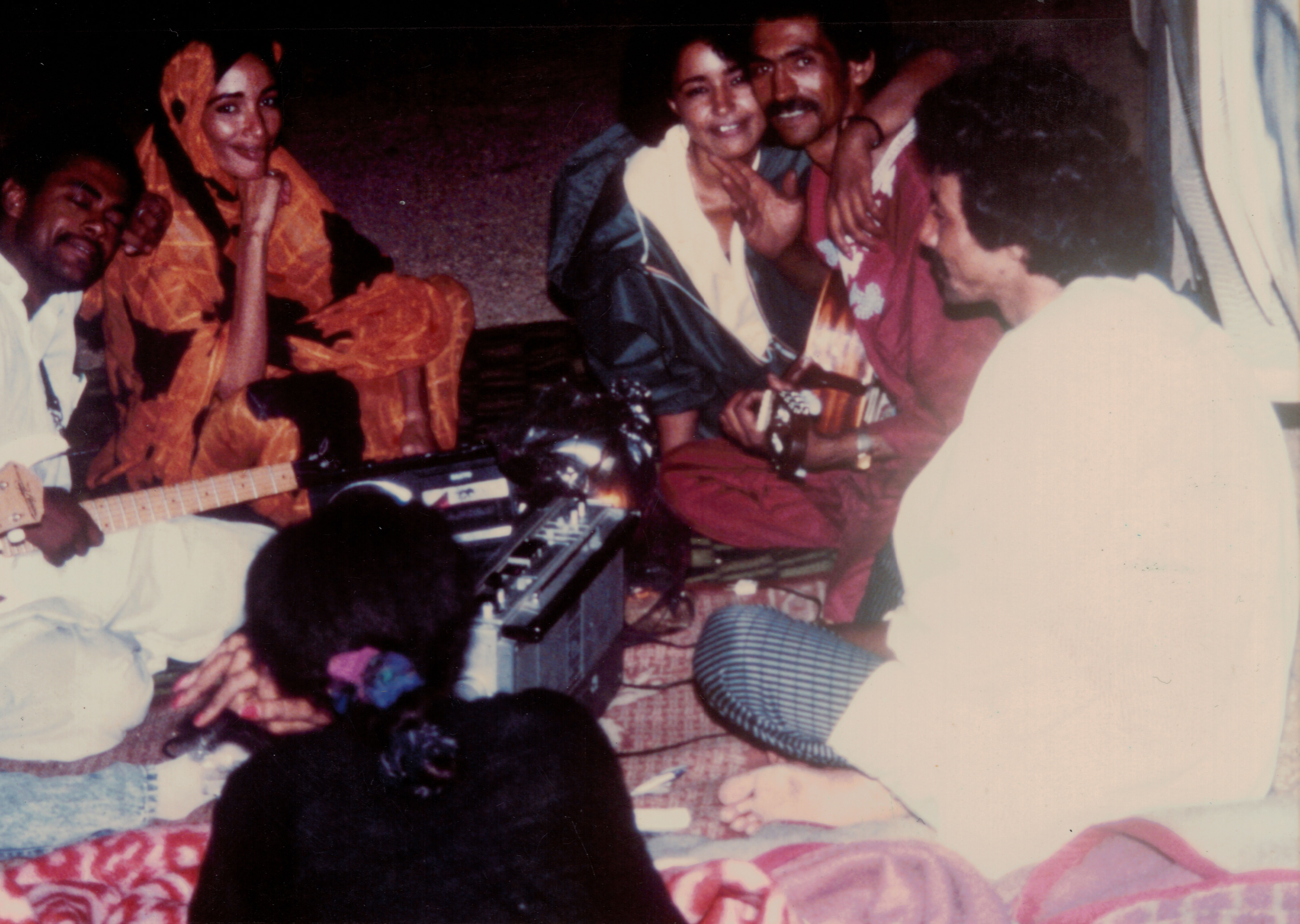 1989

By the end of the decade, Tinariwen's fame was spreading – it was said that the Malian government, hearing the rebel message in their music, outlawed the possession of a Tinariwen cassette. But as their music grew more personal and took on a deeper consciousness, the group began to tire of their role as propagandists. They left the rebel camp, travelling south into Mali. For the first time in 26 years, Ibrahim found himself in Tessalit, the village in which he was born.


1990

Life was hard for Mali's Tuareg community. Following years of marginalisation and the destruction of their natural habitat, in June 1990, Tuareg insurgents launched a series of attacks against government buildings around Mali. Following reprisals from government forces, the attacks turned into a full-on rebellion.


Some of Tinariwen's older members – including Ibrahim, Hassan, Japonais, Kedou, Inteyeden and Abdallah Ag Alhousseyni – joined the rebellion. Stories are still told of Ibrahim and Abdallah entertaining their fellow fighters in a bush camp one night in eastern Mali.



RETURN TO MUSIC


1991

The rebellion was brief. After six months of combat, the Malian government came to the MPA with peace terms. In January 1991 they signed a peace agreement, the Tamanrasset Accords. This would not be the end of the conflict in Mali. But as the rebel movement splintered into factions, the members of Tinariwen pledged to commit to music full-time.


In late 1991, Tinariwen members travelled to Abidjan, a city in Ivory Coast, to make the group's first-ever studio recording. The recording, captured at JBZ studio, featured Abdallah, Hassan, Kedou, Diarra and the female singer and poet Kelthoum Walet. The resultant album, Kel Tinariwen, was released on cassette the following year.


"You're not the same as the westerners/Or the North Africans/You're from the time of the tribes – archaic/And you're killing each other"


Matadjam Yanmixatn ("What's The Use Of Hating One Another?")


A message to the Tuareg people, asking them to end all tribal and factional rivalries seek unity in order to better face the challenges of the modern world.




1993

The members of Tinariwen were now located in Kidal or in Mali's capital Bamako, where they led a more relaxing and convivial existence on the banks of the Niger. They were now represented by a manager, Manny Ansar, who arranged new recording sessions at the studios of Malian national broadcaster ORTM. The result was Tinariwen's second album Ténéré, featuring music from Abdallah, Hassan, Inteyeden and Diarra.


Tenere





1994

A tragedy in Tinariwen's ranks: the passing of Inteyeden, Tinariwen co-founder, who died in 1994 following a mysterious illness.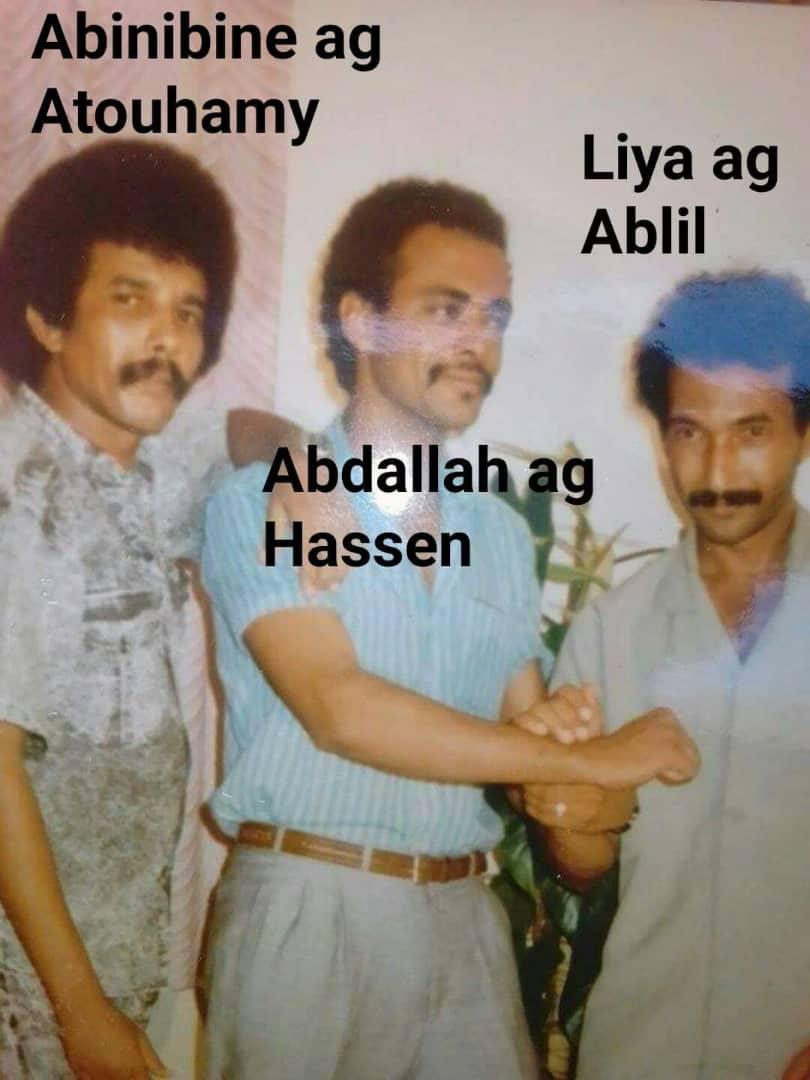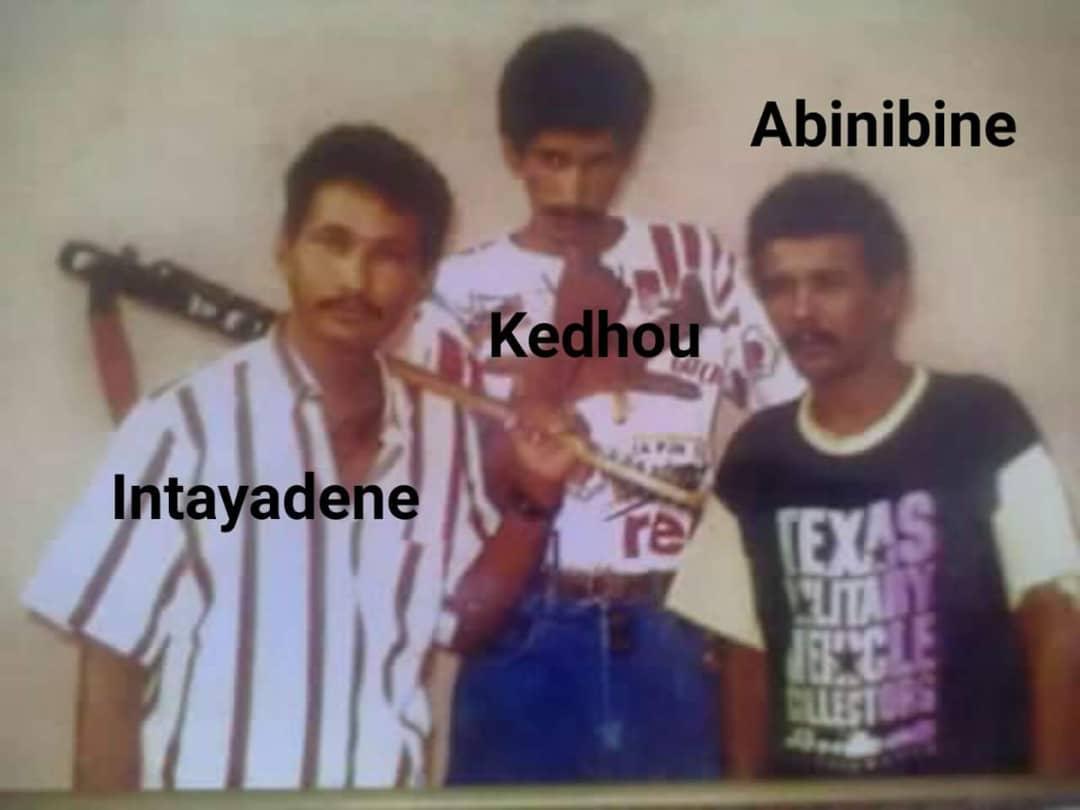 1996

Following years of bitter conflict in the region, The Flame Of Peace – a symbolic burning of more than 3,000 weapons – marked a reconciliation between the Malian government and Tuareg rebels, and promised a new age of peace across the southern Sahara. Many former rebels were offered jobs in the Malian army or government administration, but the members of Tinariwen hoped this new climate would help
`
them take their music to new audiences.

1998

A chance but fortuitous meeting. Lo'Jo, a French group fascinated by the music of North Africa, travel to a music festival in Bamako where they see a performance from Tinariwen. Impressed by their music, the group's manager Philippe Brix promises to keep in touch.


1999

At Lo'Jo's invitation, Abdallah, Kedou and Hassan travel to France to play their first international show under the name Azawad – the name of an as-yet-unrealised independent Tuareg state.



A NEW BEGINNING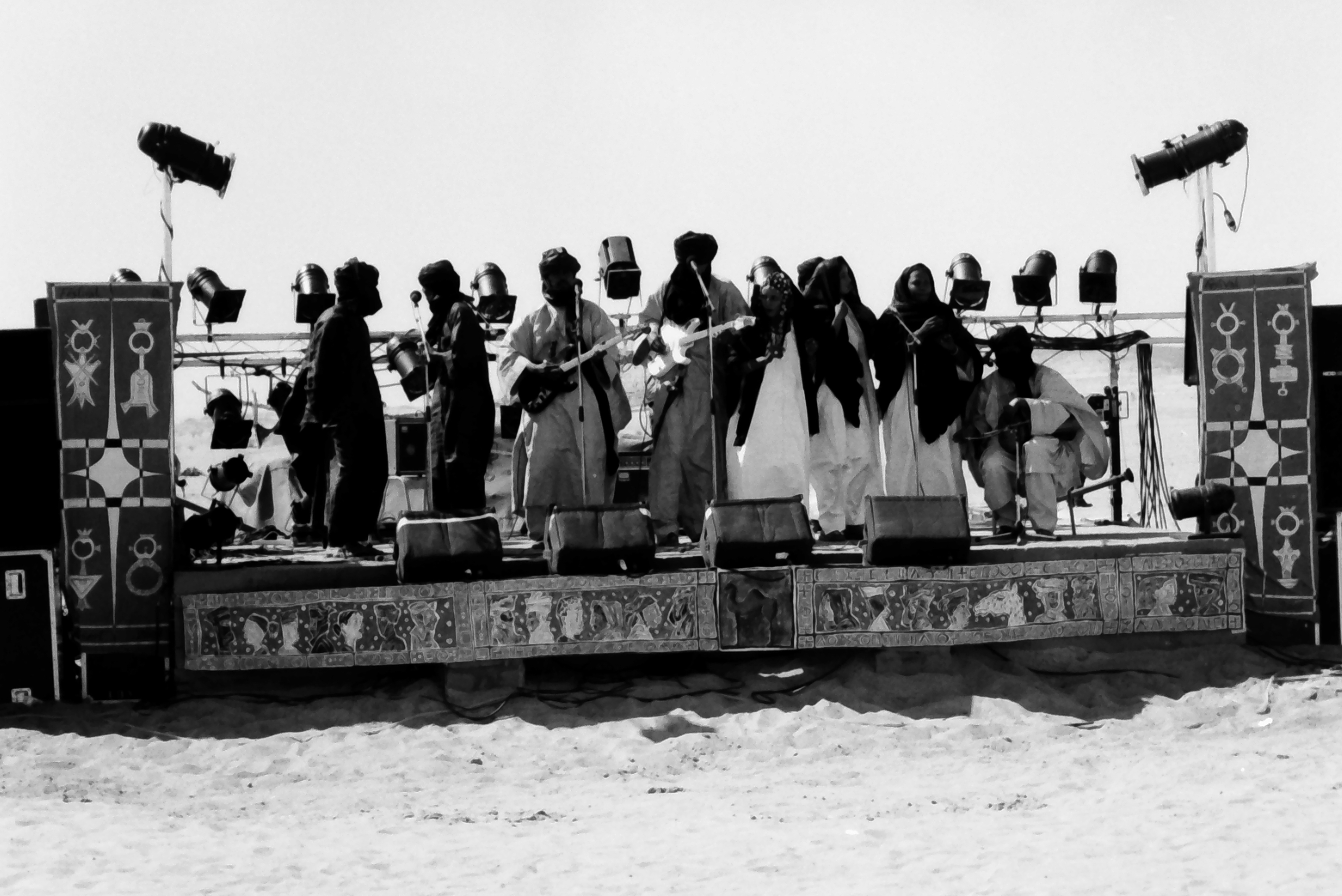 2001

The Tuareg practice an ancient tradition known as Takoubelt or Temakannit – a congress in the desert at which tribes come together to discuss problems, resolve conflicts and play music. In this spirit, Tinariwen's manager Manny teamed up with Lo'Jo and Issa Dicko of the EFES Foundation to throw the very first Festival au Désert. It took place in January 2001 in Tin Essako, a remote and beautiful location some 60 kilometres east of Kidal. Some 1000 locals and 80 Europeans gathered to watch music, and Tinariwen played a rapturously received headline set. The desert still posed its challenges. Tinariwen member Kedou stepped in to prevent the festival's sound system from being captured by bandits en route.


2001 also saw the release of Tinariwen's first commercially released album. The Radio Tisdas Sessions was recorded in Kidal at a local Tamashek-language radio station, with Lo'Jo's producer and engineer Justin Adams and Jean-Paul Romann on production duties. It wasn't the easiest job – the studio was powered by the public lighting system, and the electricity kept cutting out – although the mixing, at Justin Adams' place in Bath (UK), went somewhat smoother. Tinariwen's fame was spreading, and following the album's recording they embarked on their first international tour, visiting France, Denmark and Belgium as well as playing Womad in the United Kingdom.


"It was an entente between Mali and Niger/They debated how to carve up the Ténéré/ In the searing heat, clueless about the Ténéré/They debated how to carve it up"

Le Chant des Fauves ("Song Of The Wild Beasts")


A song addressed to the desert itself. Tinariwen promise to liberate 'Ténéré' from the oppressors and take back their homeland.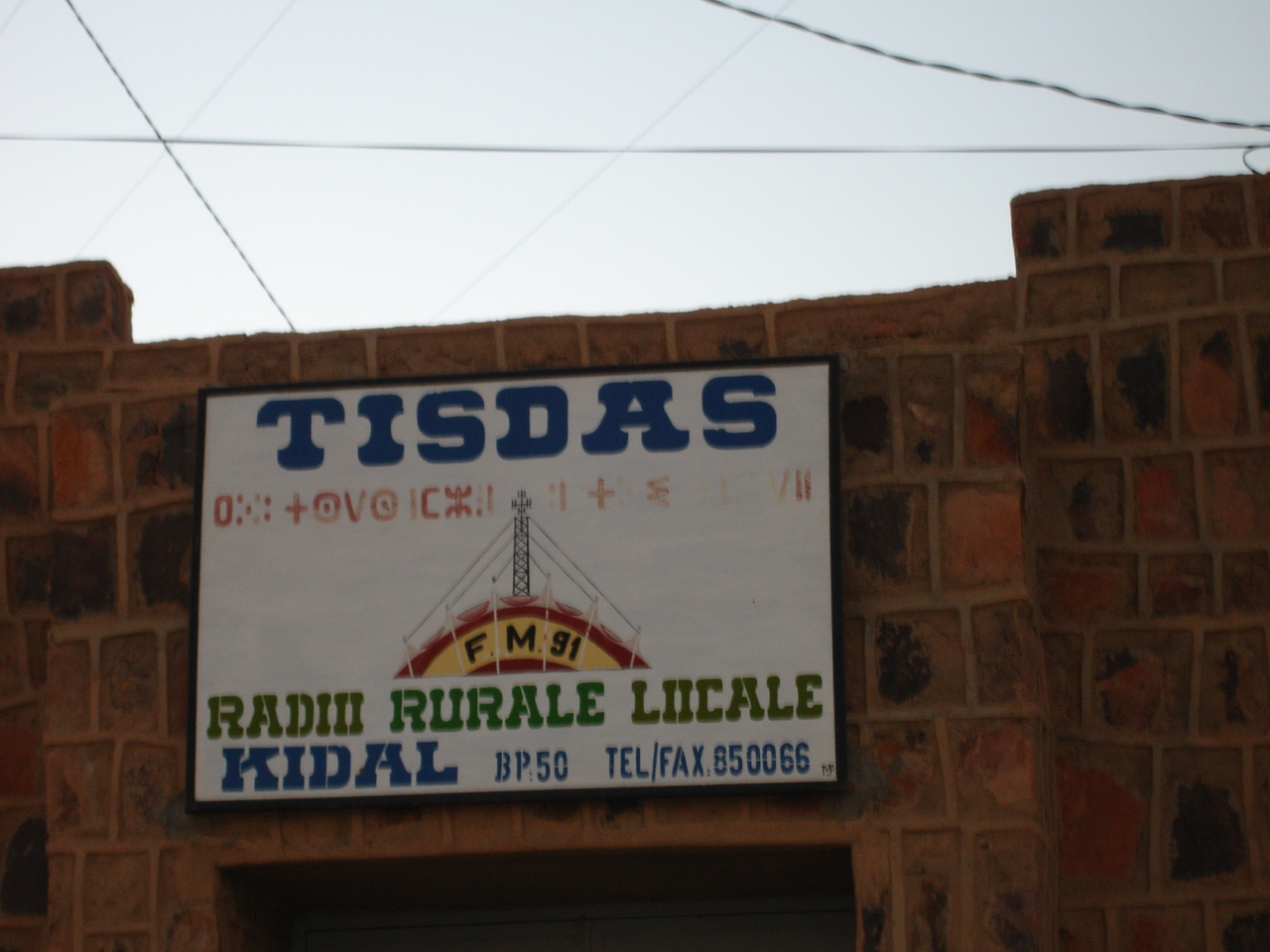 2002

Tinariwen began to open ranks, the veterans of the band joined by a new generation of musicians who had grown up on their rebel songs. Future Tinariwen albums and performances featured new faces like bassist Eyadou Ag Leche, percussionist Said Ag Ayad, rhythm guitarist Elaga Ag Hamid, guitarist Abdallah Ag Lamida aka 'Intidao', vocalists Wonou Walet Sidati and the Walet Oumar sisters. Africa is rich with multi-generational bands that grow and change over the decades; Tinariwen became one of them.


A clear highlight of the year came in 2002, when Tinariwen played at the London Astoria at the invitation of the Robert Plant Band. On discovering Tinariwen's music, the former Led Zeppelin singer said: "I felt this was the music I'd been looking for all my life". Next year, Plant would travel to Festival au Désert to perform and experience Tuareg music in its home environment.



GLOBAL TRAVELLERS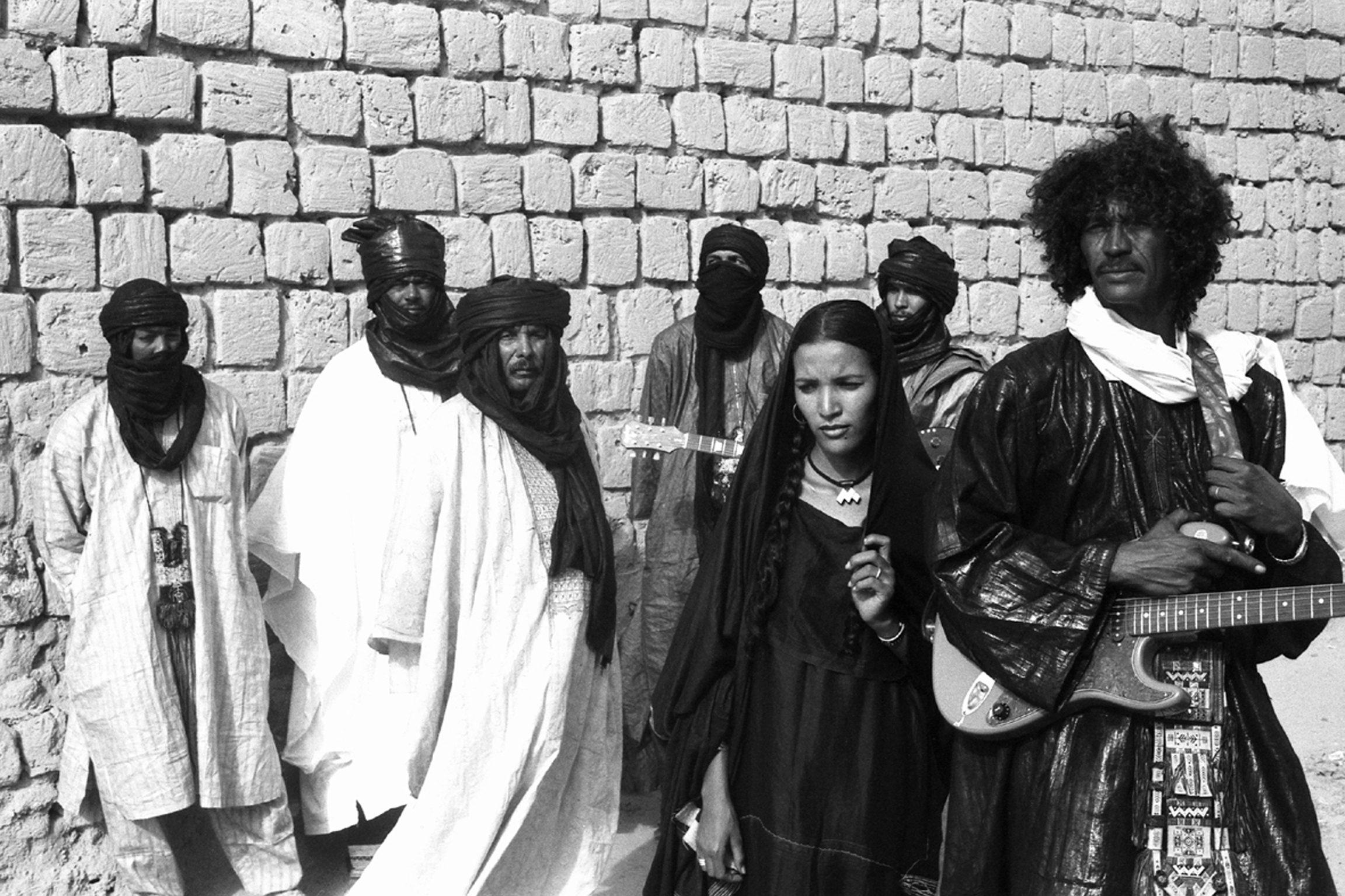 2004

The title of Tinariwen's second album Amassakoul – "The Traveller" – seemed to speak directly to the group's new, international profile. It also featured some of the group's best songs to date, including the insistent, electrified "Oualahila Ar Tesninam" and "Arawan", which included rapped lyrics in Tamashek and French.

As well as a performance at the fourth Festival au Désert, Tinariwen toured far and wide, taking in Womad Adelaide, Glastonbury, and in October the group's first US dates.

"These worries are my friends/I'm always on familiar terms with them and that/Gives birth to the stories of my life"

Amassakoul N'Ténéré ("The Traveller In The Desert")

The desert is the Tuareg's natural habitat, a place in which the nomadic traveller can reach a state of tranquility and calm focus.

2005

A busy year of touring, taking in Europe, the United States and Canada, Japan's Shibuya Festival and African Live 2005 in Senegal. And recognition, as Tinariwen win the BBC Radio 3 Award for World Music.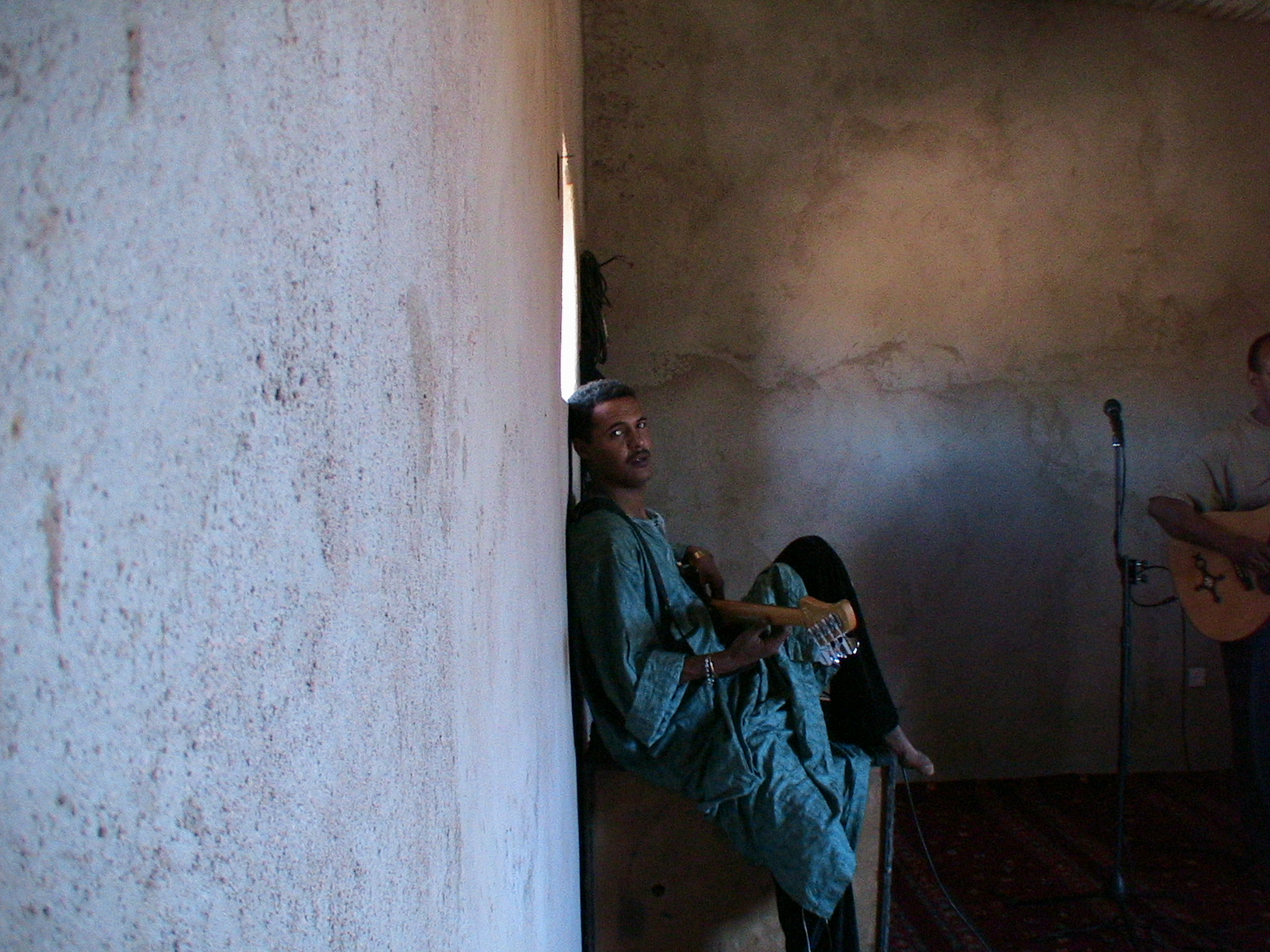 2006

Director Jeremie Reichenbach's documentary Tinariwen: The Guitars Of The Tuareg Rebellion captures the group's story on film for the first time. It later wins the grand prize at SACEM.

Tinariwen are the featured group in Carlos Santana's My Blues Is Deep night at the Montreux Jazz Festival 2006, and they jam with Santana on two songs. "To share this stage with Tinariwen is a real joy because when I hear them I hear the beginning of the music of the Mississippi and of Muddy Waters, Jeff Beck, BB King, Little Walter, Otis Rush, Buddy Guy," says Santana. "This is where it all comes from, they are the originators."

2007

Tinariwen release their third album proper, Aman Iman ("Water Is Life"). Recorded in a two-week stint in Bamako, Mali, the album muses on themes of exile and division. Alongside a brace of songs by Ibrahim, Abdallah and Hassan, it marks the return of Japonais to the fold, the veteran leading on "Ahimana" and "Awa Didjen".

Aman Iman hits No.1 on the world music charts in UK, France, Germany, Holland, Japan, Scandinavia, USA and Italy. Tinariwen tour extensively around the album's release, and have another brush with western rock royalty, supporting The Rolling Stones at Slane Castle in Ireland in August.

"We kill our enemies and become like eagles/We'll liberate all those who live in the plains"

Tamatan Tiley ("Death is Here")


A song written by Hassan, one of the founder members of Tinariwen, back in 1983. He urges his Tuareg brothers to keep up the fight without fearing death.

2008

Tinariwen win Germany's highly prestigious Praetorius Music Prize.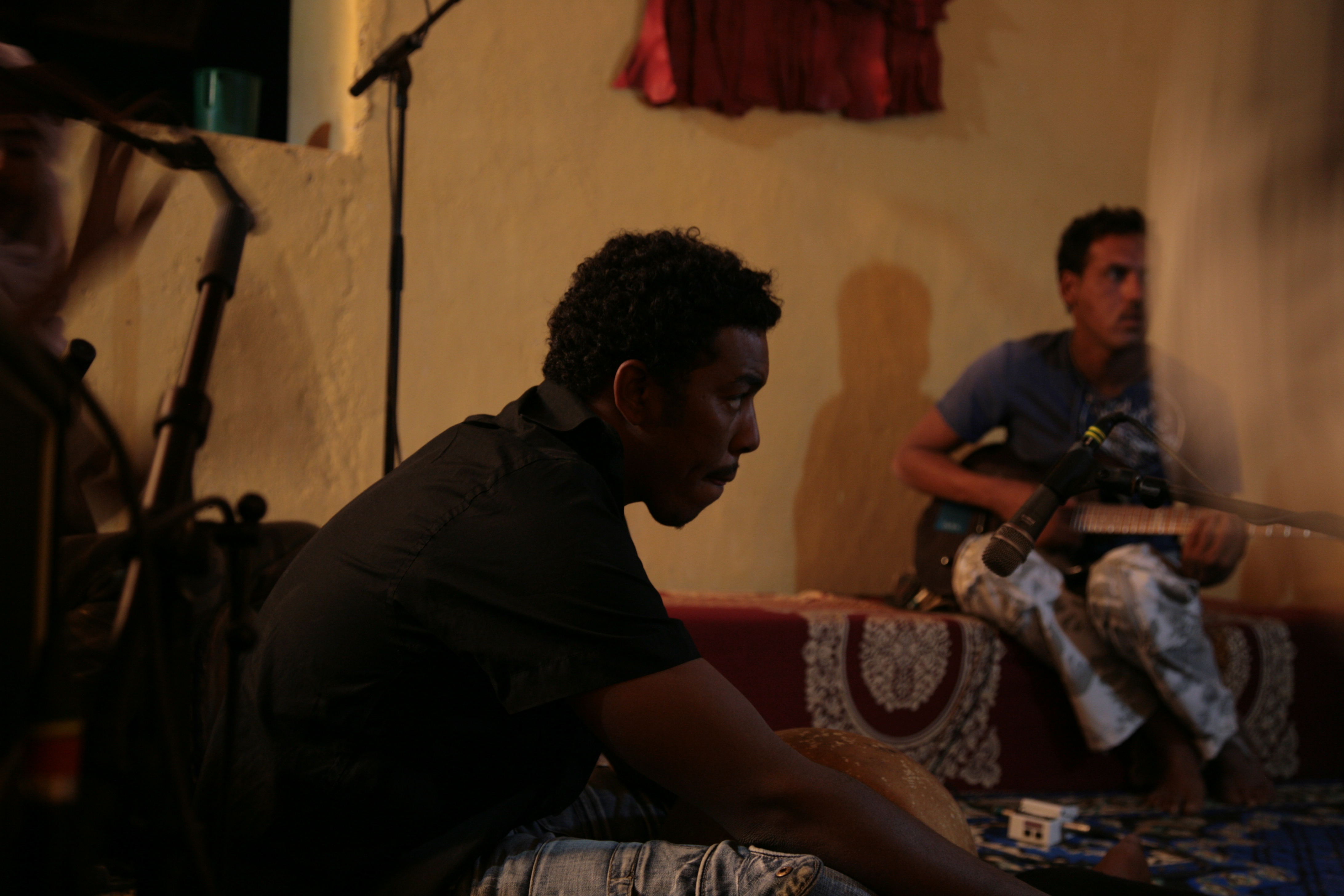 2009

Tinariwen's fourth album, Imidiwan: Companions, sees them reunite with producer Jean-Paul Romann, who recorded their debut album eight years before. Recorded in Ibrahim's hometown of Tessalit in a mobile studio, it has the feel of a grand homecoming, its songs lifted on big, communal choruses.


2009 also saw the release of Live In London, a DVD capturing a live show at the Hammersmith Odeon. And Imidiwan: Companions wins Tinariwen the Uncut Music Award for best album, beating off competition from Kings Of Leon and Bob Dylan. The prize is awarded to them by Robert Plant.


"I'll never forget my friends, wherever I may be/I'll never forget my parents and my sisters to whom I love/I won't forget the freedom fighters of my country"


In line with Imidiwan: Companions' sense of a homecoming, "Chabiba" is a testament to Tinariwen's compatriots - their family, friends and all those fighting for their homeland.

2010

In June, Tinariwen perform live at the 2010 FIFA World Cup Kick-off Concert in South Africa. The 30,000-capacity concert, at Orlando Stadium in Johannesburg, also features global stars including Alicia Keyes, Shakira and Black Eyed Peas, and is beamed to a global audience of millions. While Tinariwen perform before an Algerian flag, which leads many to believe they are representing the Algerian team. Yet Tinariwen feel neither Algerian nor Malian: they are Tuareg, and regard the border that separates the two countries as a product of colonialism.


Tinariwen also appear on the track "Tamatant Tilay/Exodus" from Herbie Hancock's album The Imagine Project.







EXILES AGAIN



2011

Peace in Northern Africa is hard-worn and often fleeting. For the last few years, radical Islam had been gaining a foothold across the region, and by 2010 the threat from Al Qaida was considered so grave that the then US secretary of state Hillary Clinton advised Americans not to travel to Timbuktu, and especially "not to the world-renowned Festival Of The Desert".

This was a difficult time to be in an internationally touring rock band. Tinariwen recorded their fifth album Tassili over a period of three weeks in an Algerian national park called Tassili N'Ajjer, once considered a place of relative safe passage for Kel Tamashek fighters who travelled from the refugee camps in Libya to the frontline. The album's stripped-back sound consciously harked back to Tinariwen's beginnings, strumming acoustic guitars around a campfire. But Tassili also found Tinariwen opening their music up to the world, featuring guest appearances from Nels Cline of Wilco, The Dirty Dozen Brass Band and Tunde Adebimpe and Kyp Malone of TV on the Radio.

Tassili would win a Grammy for Best World Music Album, and also saw the band appear on The Colbert Report, where they performed live and participated in a translated interview with host Stephen Colbert.

"O jealous desert!/Why can't you see?/You are a treasure/I've seen the world/I love you better"

Tenere Taqqim Tossam ("Jealous Desert")

Joined by Tunde Adebimpe and Kyp Malone of TV On The Radio, Ibrahim sings a song that paints the desert as a jealous lover, one that always tempts him home.

2012

In January 2012, a new Tuareg rebellion took place in northern Mali, a group known as National Movement for the Liberation of Azawad (MNLA) declaring independence and announcing the formation of a new, independent Tuareg state, Azawad. This time out, Tinariwen were a target, thanks to the machinations of a militant group, Ansar Dine, who sought to impose strict Sharia law across the region. There were reports of local militia visiting houses of musicians, taking guitars and drum kits, dousing them in petrol and setting them ablaze. In August, the Islamists issued a decree: "We don't want the music of Satan. Qur'anic verses must take its place. Sharia demands it," the decree says.

Away from home, Tinariwen's fame continued to grow. They won Best Band in the 2012 Songlines Awards, and supported Red Hot Chili Peppers on their summer dates. Flea calls Tassili "the true sounds of freedom and yearning and deepest groove on the planet".




2013

In January 2013, Tinariwen are ambushed by Ansar Dine militants. Most band members evade capture, but Abdallah Ag Lamida is abducted while trying to save his guitars. Some weeks later, Tinariwen report through their Facebook page that Abdallah had been released and is safe. Tinariwen, along with many Malian musicians, seek to leave the country; for a period, Festival au Désert relocates to the United States, where it continues as a "festival in exile".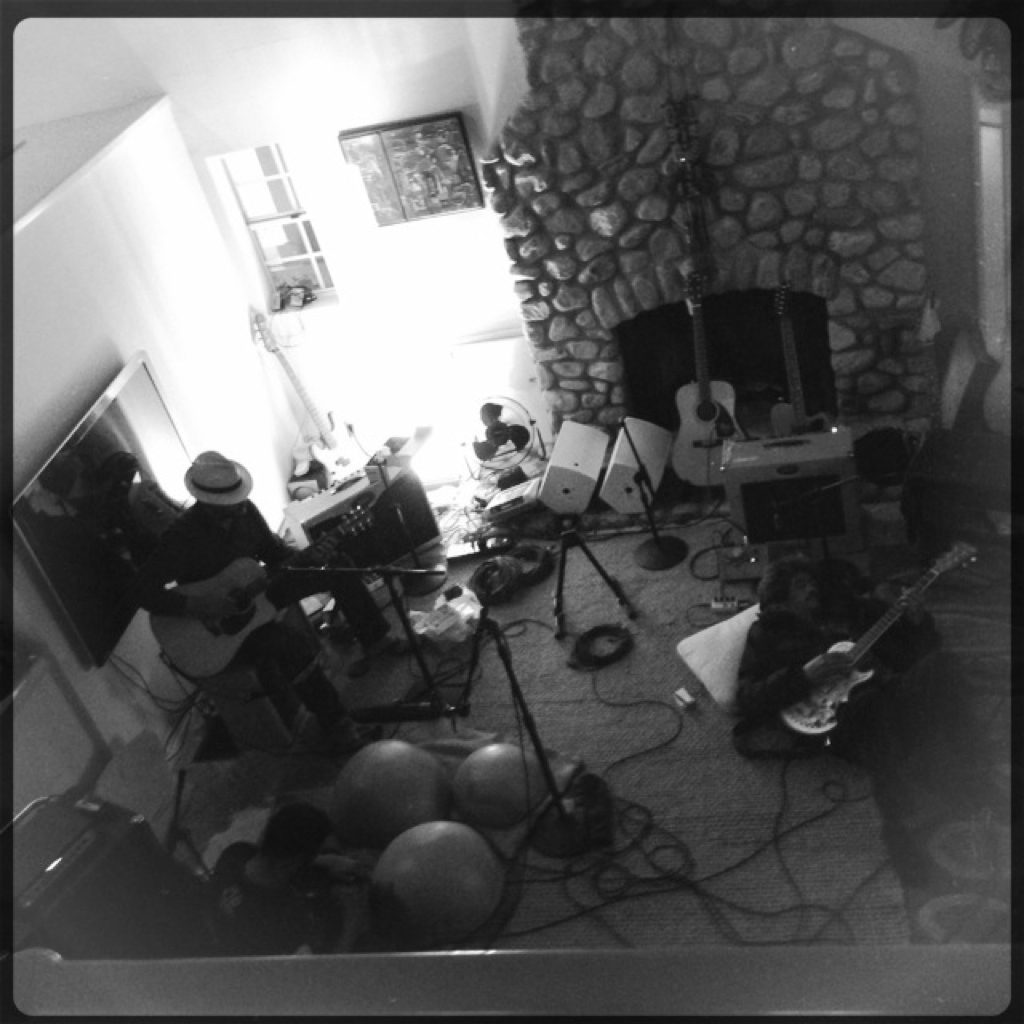 2014

Temporarily resettled in the United States, Tinariwen record their sixth album Emmaar ("the heat on the breeze") in a home studio in Joshua Tree National Park in California - a desert home from home. The members of Tinariwen watched western movies, ate burritos, and worked with musicians including Saul Williams, Matt Sweeney, Fats Kaplin and Chili Pepper Josh Klinghoffer. But unsurprisingly, the songs of Emmaar dwelt on the political strife back home.

Following Emmaar's release, Tinariwen hit the road again, plotting tours across Europe and America. This time, Ibrahim chose to remain in Mali to attend to family issues. Bassist Eyadou Ag Leche took on the role of musical director, and Tinariwen recruited a new member, Iyad Moussa Ben Abderahmane (aka 'Sadam'), to perform Ibrahim's parts live.

"The ideals of the people have been sold off cheap, my friends/Any peace imposed by force is bound to fail/And give way to hatred"

Toumast Tincha ("People Have Been Sold Out")

A song directly addressing the failed peace and the return of violence to Mali. Tinariwen believe the Tuareg people deserve better.

2015

Tinariwen release Live In Paris: Oukis N'Asuf, a document of their December 2014 show at Théâtre des Bouffes du Nord that brought to a close a year-long world tour. The album's title translates roughly as "to overcome heartache", and features the 75-year-old singer and percussionist Lalla Badi, regarded as a godmother of modern Tuareg music.

2016

In 2014, Tinariwen had stopped for three days of recording at Rancho de la Luna, a desert studio frequented by Queens Of The Stone Age, Iggy Pop and Arctic Monkeys in Joshua Tree National Park. Almost two years later, the time had come to complete these songs, which they did in M'Hamid El Ghizlane, an oasis in the southern Morocco desert. The result was their seventh album Elwan – the title translates as elephant, a reference to the way that everyone from Islamist militias to multinational corporations have trampled over the traditions of kindness, respect and ancestry that the Tuareg people hold dear. The record features guest appearances from Matt Sweeney, Kurt Vile, Mark Lanegan and a group of Berber 'gnawa' trance musicians.

Elwan receives a nomination for the Best Global Music Album at the 2017 Grammys, and wins Best Classical/World Music album at the 2017 Libera Awards.

"Ténéré, can you tell me of anything better/Than to have your friends and your mount/And a brand new goatskin, watertight/To find your way by the light of the four bright stars of heaven"


Sastanàqqàm ("I Question You")

With a goatskin filled with water and the stars in the sky to navigate by, Tinariwen wind their way through the desert dunes.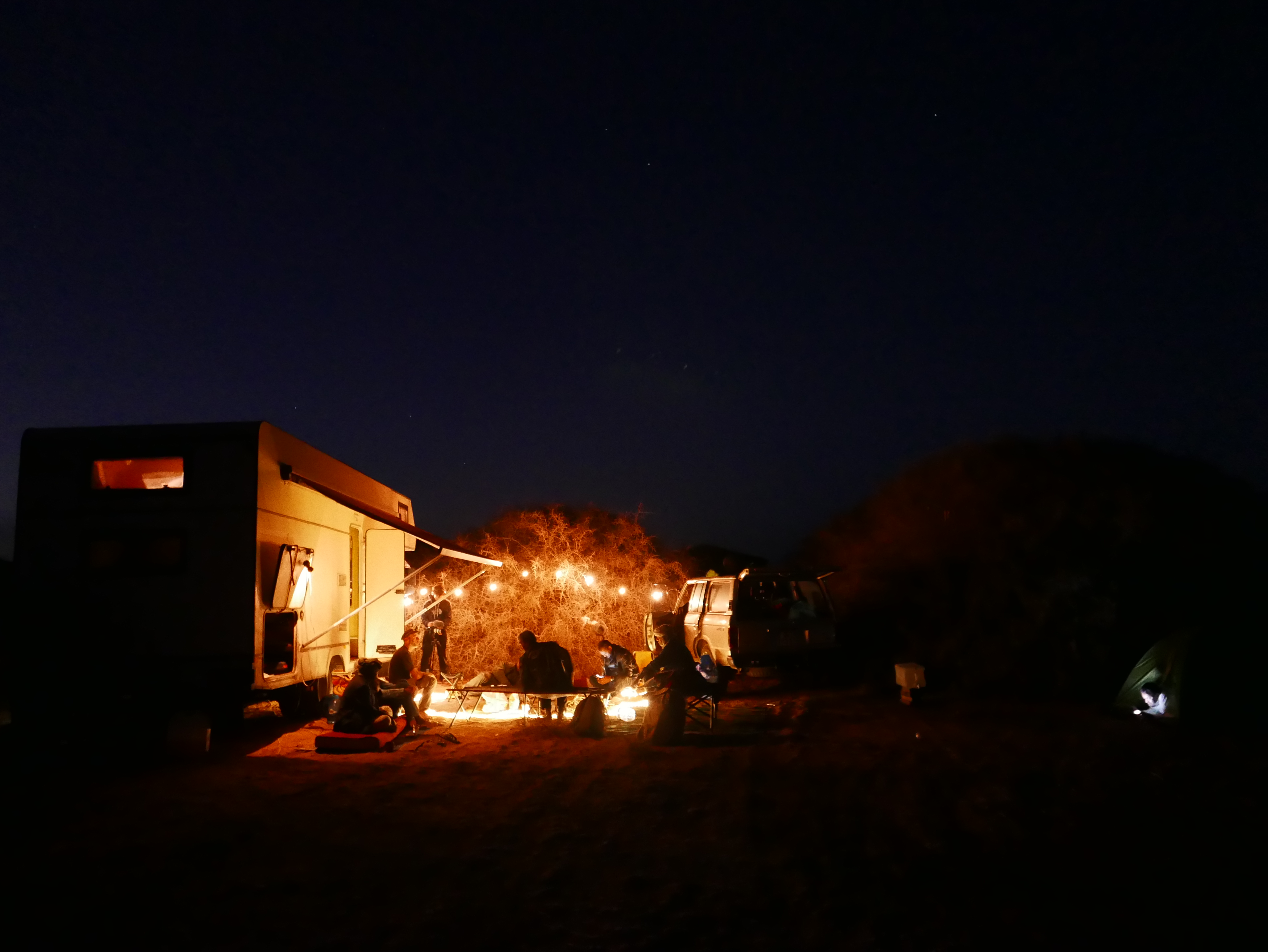 2018

The international tour to support Elwan wound up in August 2018, but it was deemed still unsafe for Tinariwen to return to northern Mali. Instead, Tinariwen spent a period as nomads, travelling from Morocco through Western Sahara and Mauritania, writing music and collaborating with local musicians along the way.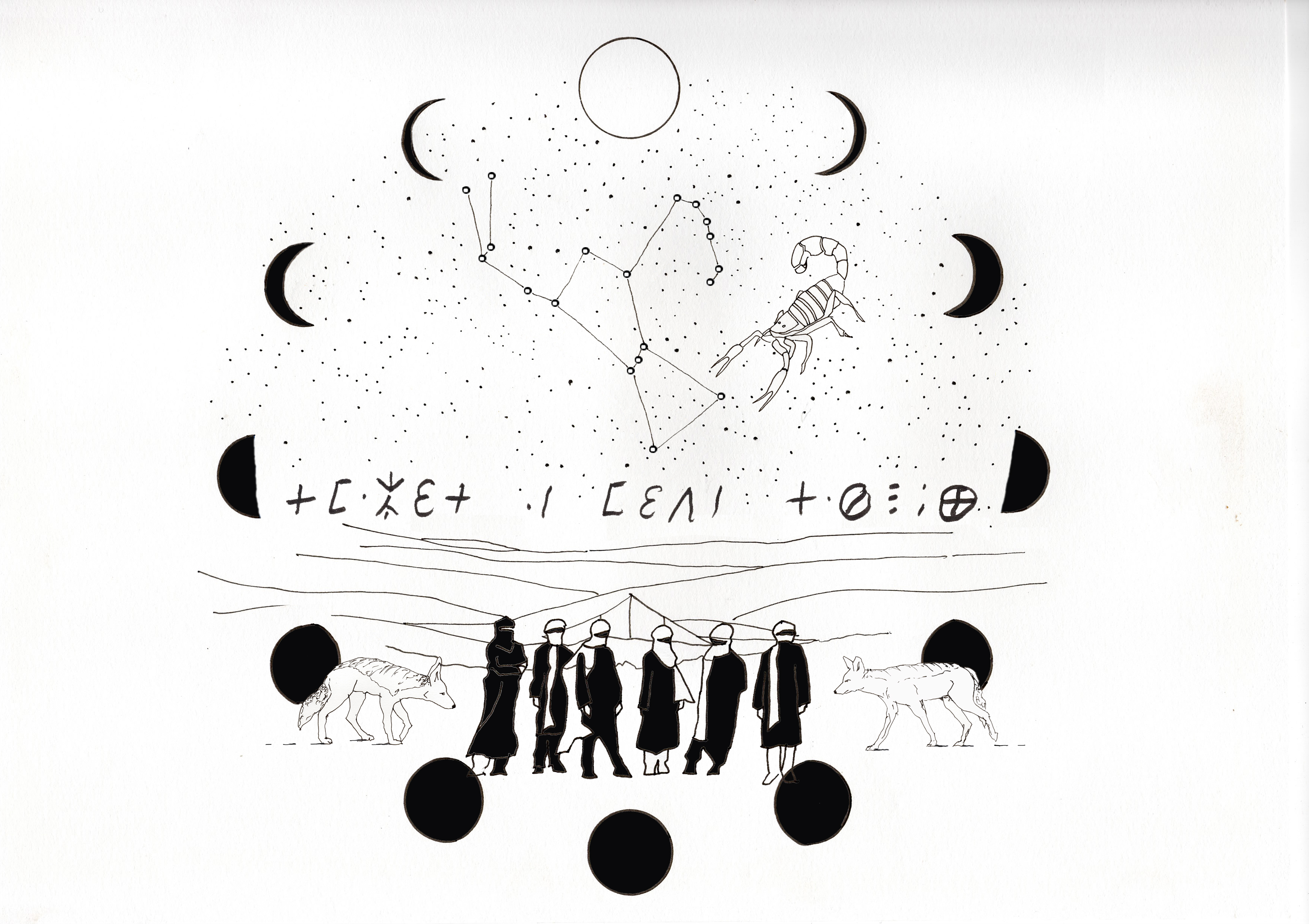 2019

This approach fed directly into Tinariwen's eighth full-length album, Amadjar ("the foreign traveller"). En route to Nouakchott, the capital of Mauritania, Tinariwen would stop every evening, set up beneath the stars, talk and play music. On arrival, they met up with the Mauritian griot Noura Mint Seymali, her husband Jeiche Ould Chighaly and their French production team, who had been trailing them in a camper van equipped with a mobile studio. Then they set up a tent in the desert and recorded the album in 15 days, capturing the songs live without headphones or effects. Later, some additional overdubbing in France and Algeria added additional parts from Cass McCombs, SunnO)))'s Stephen O'Malley, Micah Nelson and The Bad Seeds' Warren Ellis.

Amadjar wins Tinariwen another nomination for Best Global Music Album at the 2020 Grammys, and wins Best Classical/World Music album at the 2020 Libera Awards.

"In an unbroken solitude, thoughts appear from nowhere/They frighten me/And, lost in the night, my thirst, my desire for water awakened me/Oh love, dreaming of your tale has exhausted me/I have no hate left for anyone; my soul is confused/I believe in no one now."

Tenere Maloulat ("The White Desert)

Amadjar means 'the unknown visitor' in Tamashek. It refers to the one who seeks hospitality and is condemned to an inner exile, within a territory or within himself. On "Tenere Maloulat", Tinariwen explore this dark night of the soul.



2021

Another sad loss. On February 14, Japonais – a member of Tinariwen since 1985, and the author of the songs "Ahimana" and "Tamudjeras Assis" – passes away. He was 54 years old.